About the Network
Pacific Crossing operates the shortest and lowest latency cable system connecting the United States and Asia. The PC-1 system supports the demand for trans-Pacific capacity and managed network services including Internet protocol (IP) transit, data center and Internet infrastructure, and bandwidth on demand. 
Through its strategic operational relationships with world-class organizations, Pacific Crossing delivers 24x7 monitoring, maintenance and the highest level of support to our global customer base.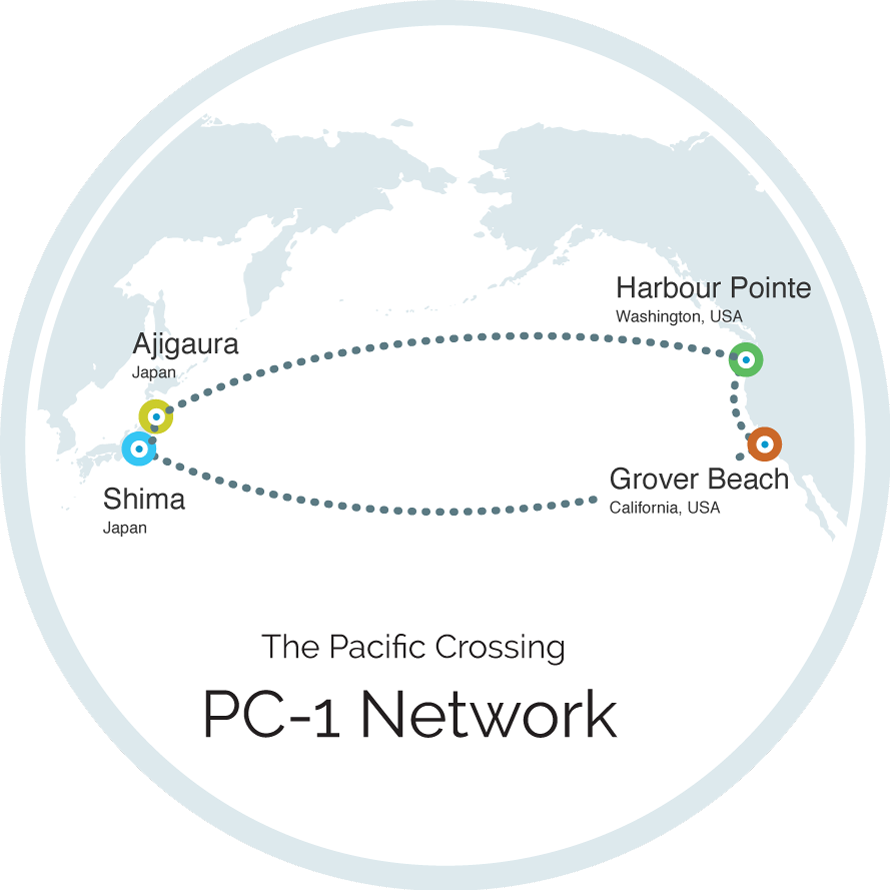 The PC-1 System
The Pacific Crossing PC-1 trans-Pacific network consists of four fiber-pairs organized in four segments connecting each of the landing stations near major metropolitan areas in the U.S. and Japan: Harbour Pointe, Washington (near Seattle); Grover Beach, California (between San Francisco and Los Angeles); Ajigaura, Japan (near Tokyo); and Shima, Japan (near Osaka and Nagoya).
Key Features of the PC-1 System:
1

High Availability

The PC-1 sub-sea network offers five 9's availability with a full ring architecture that is fully redundant and provides on-net alternate path restoration capability in the event of system disruptions.

2

Low Latency

The PC-1 system is extremely low latency, with our North route from Ajigaura to Seattle offering the shortest route and lowest latency across the Pacific.

3

High Capacity

Recent upgrades have significantly increased PC-1's lit trans-Pacific transmission and design capacity.  Pacific Crossing delivers ample capacity to support current and future demand for broadband network services for carriers, ISP's and major content providers.

4

Global Monitoring and Maintenance

Key strategic operational relationships enable around-the-clock wet and dry maintenance, network monitoring, operations and support for the PC-1 system and landing stations to ensure high reliability and availability.
Support Services
The PC-1 system is connected seamlessly to backhaul providers with diverse routes and competitive pricing. At PoPs in Washington and California, PC-1 is interconnected with various carriers providing services to various locations in the U.S.  
Our facilities in Japan are fully integrated with our parent company NTT Limited. Their extensive domestic network and facilities provide connectivity to all major Japanese cities and facilities and ready interconnection to other sub-sea networks serving Asia.
Washington
Landing Points and PoPs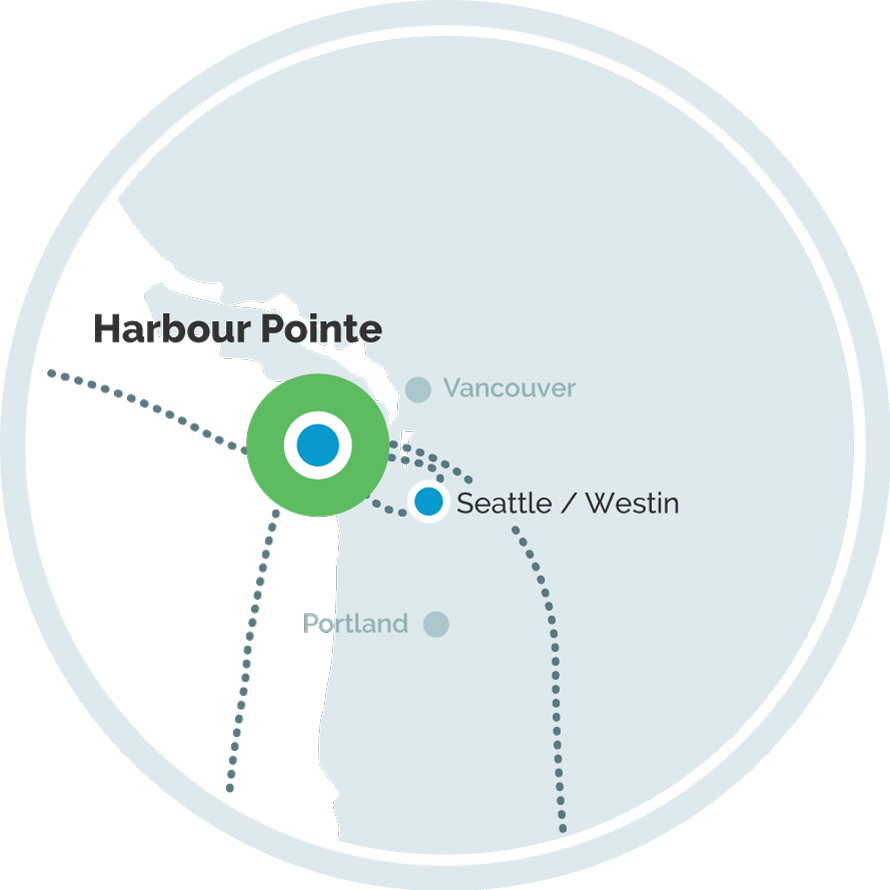 California
Landing Points and PoPs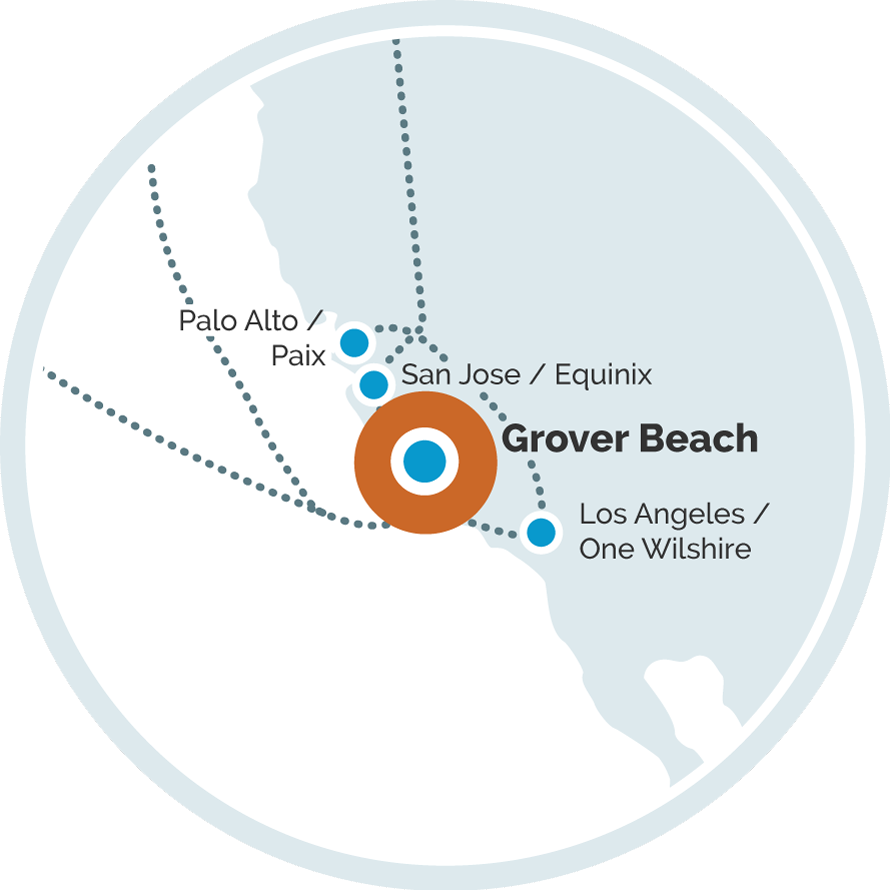 Key Support Offerings:
Capacity Services

Our trans-Pacific network offers 100 G and 10 G Wave capacity.

Maintenance and Support

The network includes full stand-by marine maintenance with repair vessels on both sides of the Pacific and 24/7 network monitoring and support.

Backhaul Coordination

Each of four landing stations offers a range of backhaul services either through Pacific Crossing's own facilities which provide full end-to-end monitoring or in connection with one of our backhaul partners. We are always standing by to plan or coordinate backhaul to various locations in the U.S. and in Asia.

Collocation

Our facilities are available if you decide to collocate your equipment along with your usage of PC-1 Cable Systems Capacity.